Improving the lives of people in rural areas through peanut farming
Improving the lives of people in rural areas through peanut farming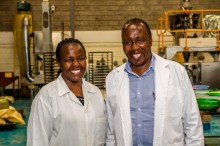 Catherine and Athanas Matheka
01/12
Athanas Matheka, founder and CEO of Greenforest Foods Limited, a Kenyan company that produces honey and nuts, is using peanuts to improve the lives of families in Kenya's rural areas and to reduce resource-centred conflict. Yes, Peanuts.
In 2001 he founded Greenforest with 150,000 Kenyan shillings (around € 1,300) of his own capital. He currently supplies 35% of the Kenyan market for bottled honey, which is sold at supermarkets and gas stations.
But peanuts hold greater market potential than honey, according to Athanas: "The peanut market is worth 3.2 billion Kenyan shillings annually. And most of the peanuts consumed here are imported. So we don't have to struggle to look for markets in Europe and elsewhere. Peanuts grow very well in areas where there is little rainfall, as in most of Kenya, and they are a low-management crop, ideal to focus on. Most of our competitors will buy from us. In fact we already have a lot of orders that we are unable to fulfil."
While the demand for peanuts is high, many farmers lack knowledge and experience when it comes to growing peanuts, and can employ methods which are harmful to the environment.
"If you look at some of the practices in farming, a lot of people use chemicals and clear large stretches of land, because their approach is not efficient," Athanas says. "I believe we can introduce better technology and the right seeds. With micro-tools we can cut down emissions. Land use will improve, as will yields."
Market potential
Many farmers have been growing sugar for a long time, but sugar has ceased to be a good cash crop, so they have started growing peanuts. Working together with agricultural organizations such as the International Crops Research Institute for the Semi-Arid Tropics, Athanas is implementing a programme to help farmers in the Great Rift Valley improve their harvest.
Labour is expensive, so Athanas has persuaded a South Korean manufacturer to deliver a micro-tool capable of carrying out 50 functions on small plots of land and hilly sites. Greenforest will demonstrate the tool's capabilities to encourage take-up by the peanut farmers. The machine costs US$ 3,000 – a lot of money for a farmer.
"Although there is a lot of mechanization, including in Greenforest's factory, this does not mean that jobs will be lost," Athanas points out. At the plant in Nairobi, a machine shells as many peanuts as 62 farmers would be able to do on the same day. This leaves the farmers more time to grow the peanuts.
While tasks such as shelling, tilling the land and planting might be done mechanically to increase volumes, harvesting will remain manual for a long time to come, which Athanas prefers as a way to achieve higher quality.
"More jobs will be created because we are building more capacity, and jobs will be transferred to rural areas," says Athanas. "For example, look at this nut, which is broken because it was harvested mechanically. It is better to harvest peanuts manually. So if we have very big volumes here we will need plenty of people to harvest."
Rising profits
To date, Greenforest has contracted 3,000 peanut farmers in groups, and these farmers are making three to four times more profit than before. The price of a bag of peanuts (38 kilos unshelled) used to be just 950 Kenyan shillings (€ 8). It is now 2,450 shillings (€ 22).
Oikocredit will continue to support Greenforest as they expand and make a significant positive impact in Kenya.
"Before Oikocredit came on board we used to have a lot of problems. Being an SME (small to medium enterprise) dealing with agriculture, not many organizations lend money to support someone who is working with farmers. So when Oikocredit came, we really appreciated that they understood our problem," Athanas says.
Read more about Greenforest and how Oikocredit supports the family business.