"Oikocredit is a frontrunner": getting to know our director of risk
"Oikocredit is a frontrunner": getting to know our director of risk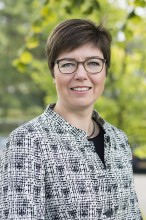 28/02
In December 2017, Oikocredit welcomed Laura Pool as our new director of risk and member of our managing board. We spoke to Laura about risk management, her passions and why she chose Oikocredit.
What motivated you to join Oikocredit?
There were two reasons really.
Firstly, my background is in financial services. I worked for ING for over 16 years as well as a few smaller institutions. Risk management became one of my areas of expertise because that part of the business really inspires me.
Secondly, I became more aware of microfinance when the mainstream media started reporting on it. This brought Oikocredit to my attention.
I saw Oikocredit as a frontrunner in microfinance investing and I believe in our mission of empowering people. So when I heard about the vacancy, I had to apply.
The position of director of risk is new to Oikocredit. What is it and why is it important?
Oikocredit has been good at risk management in the past. But as the organisation's activities expand and become more complex, it's exposed to new risks.
By making a separate department we've brought together the different functions looking after risk and created a centralised resource that can oversee of every aspect of Oikocredit's risk exposures. This gives Oikocredit a more structured and integrated approach to risk management.
What makes you a good fit for the position of director of risk at Oikocredit?
Back in 1991, I started as a tax consultant. I then moved to ING where I advised on transactions.
I gained a Master's in Financial Economics in 2000. I also joined ING's capital management department, where we developed a new way of managing risk.
Since 2008 I've been managing the finance and risk function in smaller companies, including Triodos Investment Management. Implementing new risk management methodologies and processes is something I like doing in these smaller companies, because you need to be pragmatic and close to the business activities.
What contribution would you like to make to Oikocredit?
First of all I want to develop the risk management function.
Right now I'm evaluating Oikocredit's needs and risk policies so I can create a comprehensive plan for the coming years.
For the future, I'd like to see how we can help our partners develop their risk management activities, and develop best practices with them.
Tell us a bit about yourself. What are your passions? What inspires you?
I love being outdoors. I'm passionate about cycling and go on long distance trips across Europe.
On weekends I go on shorter bike rides locally. And if I'm not cycling, I'm walking, usually along the river IJssel, where I live.
My other great passion is art. I adore Piet Mondrian and Mark Rothko, and I love being surprised by new artists.